Men in Green Faces 1968/08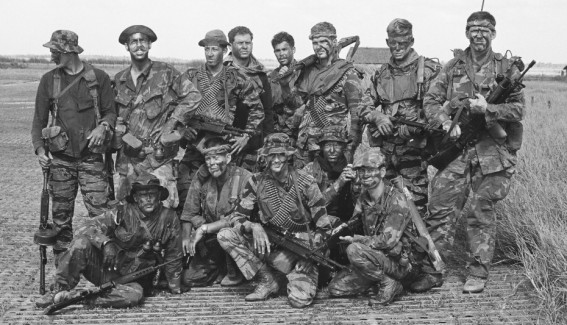 Location: Ham Luong River, South Vietnam
Battle Type: USMC assault vs Viet Cong defend
Date: August, 1968
Force Value
USMC: 723
Viet Cong: 757
Men
USMC: 29
Viet Cong: 92
Designed by: shahadi
Map by: Pyros with modifications by shahadi
Background
Men in Green Faces (MIGF), is a semi historical scenario depicting a patrol mission up the Ham Luong River in August 1968. MIGF is an twelve-man platoon of U.S. Navy SEALs ferried aboard a LCM-6 "Mike Boat" to destroy a bunker at the neck in the Ham Luong River.
This scenario depicts a typical SEAL missions in the riverine environments of South Vietnam. The rivers of Vietnam presented the Viet Cong with a rich environment to control territory, increase revenue, and extend logistical trains from the north throughout the south. Seal Teams One and Two were created to conduct special operations to interdict Viet Cong activities within the Mekong Delta.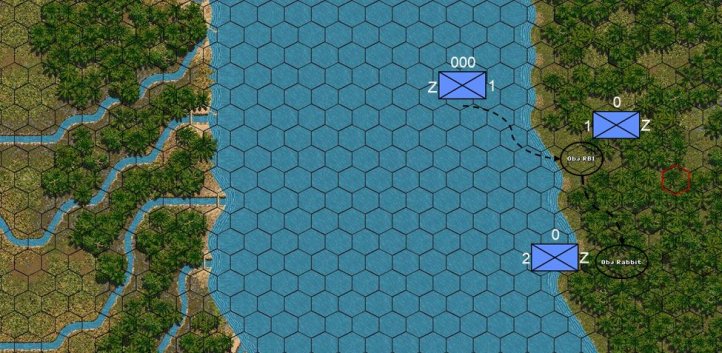 Situation
Regular North Vietnamese engineers have built a bunker that dominates a neck in the Ham Luong River. The Ham Luong River is a major transit of Viet Cong war materials and a means to finance their insurrection against the South Vietnamese government. The bunker is a serious threat to the Navy's mission to interdict the VC logistics train on the Ham Luong River while hindering riverine operations to locate, fix, and destroy VC formations in the surrounding province.
"To augment present naval capabilities in restricted waters and rivers with particular reference to the conduct and support of paramilitary operations, it is desirable to establish Special Operations teams as a separate component within Underwater Demolition Units One and Two. An appropriate cover name for such units is 'SEAL' being a contraction of SEA, AIR, LAND."
Vice Adm. Wallace M. Beakley,
Deputy Chief of Naval Operations, June 5, 1961
A. ENEMY FORCES
A concrete bunker supported by VC forces.
B. MISSION
Zulu Platoon, SEAL Team One, based at Nha Be, Rung Sat Special Zone with transport and fire support from Task Group 131.1 (TG) of the River Assault Division 131, River Assault Squadron 13 will land at Obj Fox, then proceed in the bush to Obj Rabbit to destroy a bunker at the neck of the Ham Luong River in the darkness of night.
C. EXECUTION
Commander's Intent: While ferried aboard a Mike Boat, and escorted by two Patrol Boat, River (PBR) craft , Zulu will approach Obj Fox in the dark of night from the north. Upon reaching the beach at Obj Fox, Zulu platoon will land, establish a defensive perimeter with first squad, while second squad proceeds south east in the bush to Obj Rabbit. Zulu will locate and destroy the concrete bunker. The boats will move off the beach, but later bank to support the SEALs during backloading.
SEAL extraction at Obj Fox.

D. CONCEPT OF THE OPERATION
1. Maneuver: SEAL assault by land with support by two PBRs and a Mike Boat.
2. Fires: Heavy machine gun, and auto grenade fires from the PBRs and the Mike Boat.
3. Close Air Support: None.
E. COMMAND/SIGNAL
LT Jefferson Kennedy, Zulu Platoon, SEAL Team One, forward deployed at Nha Be, Rung Sat Special Zone, is the mission OIC.
F. FRIENDLY FORCES
Zulu Platoon, SEAL Team One, HQ Naval Amphibious Base Coronado, San Diego, California
1st Squad
LT Jefferson "Jeff" Kennedy, CO
1x Seal Squad
1x Seal Pathfinders
1x Seal Sniper
2nd Squad
Chief McKinney, CPO1
1x Seal Squad
1x Seal Pathfinders
1x Seal Sniper
Task Group 131.1, River Assault Division 131, River Assault Squadron 13
2x PBR
1x LCM-ATC
In game naming convention:
A0 PL-Zulu
B0 1-1-Zulu-Sniper
B1 2-1-Zulu-PthFndr
C0 SL-2-Zulu
C1 1-2-Zulu-Sniper
C2 2-2-Zulu-PthFndr
D0-ATC-131.13
D1-PBR-131.13
D2-PBR-131.13
Gameplay
Play the scenario from the USMC side against the Viet Cong AI.
Victory conditions
No special victory conditions.
Notes
The SEALs mission was the interdiction of VC operations in riverine environments by counter guerilla warfare and clandestine operations. In this scenario, move your SEALs slowly, not more than a hex at a time. You may consider halting movement between turns, such that a unit is moved one turn, then halted the subsequent turn before moving on the third turn. To reach Obj Rabbit in a reasonable time, place your SEAL Pathfinders at point.
This is a wide river assault scenario, the game will equip the SEALs with inflatable rafts; therefore, use the following steps to extract Zulu from the beach: Enter a unit onto the ATC hex, unload the unit from it's assault boat by pressing the "L" key. With your mouse, click on the UNIT, press "L" key then select the ATC to complete the load.
PLEASE NOTE THIS SCENARIO HAS BEEN ADDED TO THE 2019 PATCH UPDATE AS SCENARIO 399