Was looking into the TO&Es concerning another tank the
MK VI ROYAL TIGER
(Not too good against rocket armed
TYPHOONS
.

) as I'm reading the newest book on "
MARKET GARDEN
" when I saw the
STRUMTIGER UNIT 034
, didn't sound familiar so I took a look. Well it's missing a picture so I thought let me see what I could find. So...
http://www.tanks-encyclopedia.com/ww...SturmTiger.php
Has a usable picture top right.
One that fits...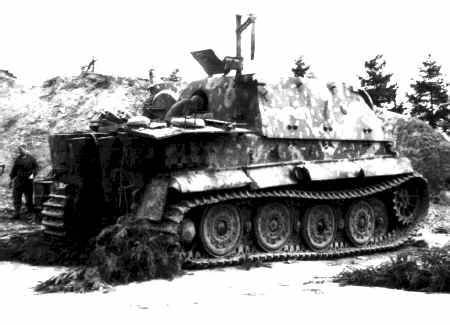 Don if you see this I have two other ones of which one is shown in the streets of Rotterdam in 1945. Someone had the time on a computer to improve the color and resolution it's a
GREAT
shot of this tank (I like pictures too!!!) "
doing something
" the aspect is perfect!! Showing
MG 42
mounted on the rear left side. Came in "heavy" here at around
144 MB
.
If you want them let me know, I know were to send them. They're the best I could find w/o one being captured or "reviewed" by the German "high" command and just plain sitting around.
I'll be going "
back across the street
" now.

Regards,
Pat