I Bring the Sword 09/2019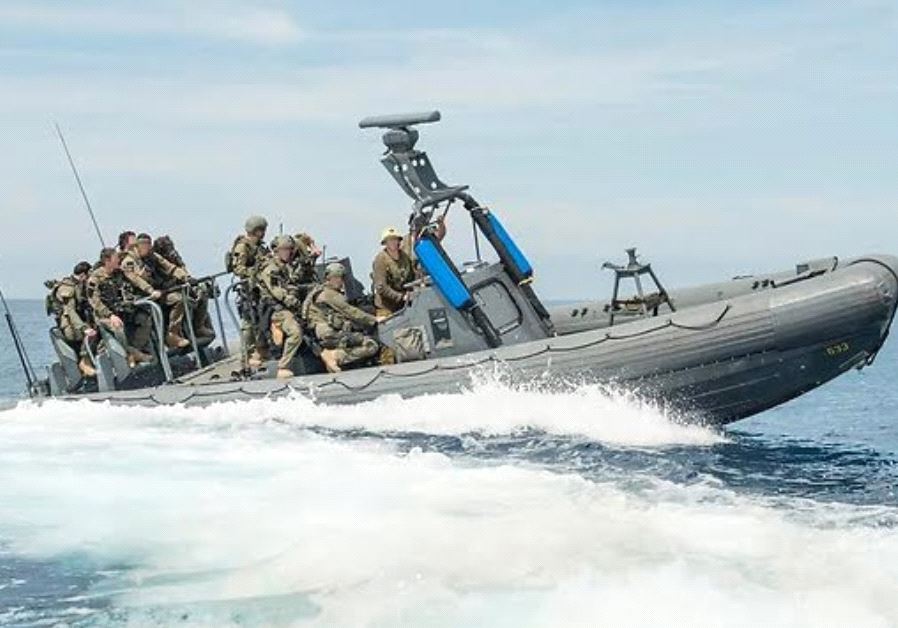 Location: Southern Lebanon at the Litani River and Mediterrean Sea
33°20'12.00"N 35°14'25.80"E
Latitude‎: ‎33.911880 DMS Lat‎: ‎33° 54' 42.7680'' N
Longitude‎: ‎36.013580 UTM Easting‎: ‎223,878.57
Battle Type: Israel assault vs Hezbollah defend
Date: September 2019
Force Value
Israel: 2246
Hezballah: 2719
Men
Israeli: 236
Hezbollah: 256
Designed by: shahadi
Map by: Gingertanker with modifications by shahadi
Background
The situation in Syria is growing untenable for the Israelis as Syrian forces backed by Iran and Russia continue to push rebel forces out of Syria. With much consternation, the Israeli War Cabinet was convened amidst reports from Unit 8200 that confirmed Hezbollah was installing advanced theater-wide SP-AA weapon systems at the mouth of the Litani River. This development directly threatens Israel's strategy to impede Assad's government in Damascus from victory over the various rebel and terrorist groups allayed against him, further imperils the Northern Border by providing air cover for Hezbollah ground and rocket forces to harass her border and cities with rocket and missile fire, and as a direct threat to her off-shore gas platforms. She assessed the Russian anti-air systems would negate Israel's air superiority over southern Lebanon, whereupon, without much debate, the War Cabinet approved a limited action by a platoon of Shayetet 13 (Israeli Marines), supported by two of her new Sa'ar 5B class corvettes to destroy the installation at the mouth of the Litani River. In Lt. Gen. Gadi Eisenkot's letter to the War Cabinet, he highlighted that the IDF must be free to operate in the area from the Litani river to the Northern Border with relative freedom of operations in the air and on the land. Avigdor Lieberman, the Defence Minister understood Gadi's emphasis as a signal that the army was ready to launch Operation Litani Two, an updated IDF plan from 1978 to annex the area from the Litani river to the Northern Border, as a means to gain the valuable water supply of the Litani.
However, in the current climate, coming on the heels of an apparent Syrian victory, while backed with Russian and Iranian forces over various Sunni jihadist militias, and a Hezbollah with six years combat experience and an abundance of rockets and missiles with which to strike Israel, the IDF leadership dusted off a plan from 1978's Operation Litani to invade Lebanon and occupy territory up to the Litani River with the intention of annexation. In this operation, the army and intelligence perceives the operation in both military and economic terms. Militarily, Hezbollah must be defeated, its leadership disrupted and Lebanon must be returned to the Christian Lebanese; economically, Israel needs the waters of the Litani for the sustainment of it's population, and Israel can not tolerate any threats to her off-shore gas drilling platforms as fiercely argued by Finance Minister Moshe Kahlon. The army wants the political leadership to accept Operation I Bring the Sword (אני מביא את החרב) as the opening salvo of a broader operation to drive Hezbollah out of southern Lebanon; unfortunately, Washington had not signed off on the plan as Benjamin Netanyahu sought.
Son of man, speak to the children of thy people, and say unto them: When
I bring the sword
upon a land, if the people of the land take a man from among them, and set him for their watchman; if, when he seeth the sword come upon the land, he blow the horn, and warn the people; then whosoever heareth the sound of the horn, and taketh not warning, if the sword come, and take him away, his blood shall be upon his own head; he heard the sound of the horn, and took not warning, his blood shall be upon him; whereas if he had taken warning, he would have delivered his soul.
(JPS TaNaKh 1917)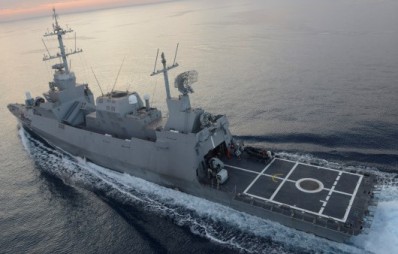 Situation
In 2006, Hezbollah maintained a network of hideouts and tunnels to pre-deploy materials - notably rockets, missiles, and ammunition. It is believed Hezbollah, under supervision of the Islamic Revolutionary Guard Corps (IRGC) has extended hideouts and tunnels from 2006 to both sides of the Litani. In addition, the Navy is concerned with reports, that Hezbollah has continued developing, since the strikes against the INS Hanif during the 2006 war with Hezbollah, anti-ship capabilities to deny the Navy littoral water access. Interestingly, both Aman and Unit 802 are convinced that Hezbollah missile teams are using modified Milan I ATGMs in an anti-ship mode, due principally out of their abundance in current Lebanese stocks. In response, the Navy has deplored two of her newest Sa'far 5B class corvettes, modified her Atalef AS565 helicopters, and developed tactics to defeat Hezbollah anti-ship missile teams.
Unit 802 signal collection and analysis staff have concluded Hezbollah has adopted the tank hunter squads from the '73 Chinese Farm. One or more of these teams are believed to have taken up positions along the beach armed with modified Milan anti-ship missiles, scouts, and infantry SAM teams carried in a M113A1 ACAV modified to carry additional ordinance. These teams are an outgrowth of the 2006 team that struck the INS Hanif; and they pose a credible threats to the mission.
Hezbollah has seven years of sustained combat experience in the Syrian civil war. Many of those units are now in southern Lebanon south of the Litani river with many IRGC, several Iranian commanders and advisors, and Russian trained Syrian technicians.
A. ENEMY FORCES
An independent Hezbollah infantry company of approximately 250 men. Turkish intelligence and Israel's Unit 8200 confirm the infantry company is most likely an Islamic Resistance company trained by the Iran's IRGC, with extensive combat experience gained in the six year Syrian civil war.
Leader: Cpt. Bahamdan, CO
3x Hezballah Platoons
2x Sp Guards Teams
Scout Teams
SS-11 Teams
Stinger Teams
M113A1 ACAV
4x S-400s
1x T-55A
2x Support Ships
B. MISSION
Operation I Bring the Sword (אני מביא את החרב), is an Israeli Shayetet 13 (Israeli SEALs) beach assault to destroy two Iranian cargo ships, advanced Russian S-400s theater wide SAM system under Syrian control at the mouth of the Litani river. Colonel Tal, the Shayetet 13 commander, ordered 2nd Platoon Haposhtim Co to destroy with prejudice all Hezbollah units and equipment within the assault area of operations.
C. EXECUTION
Commander's Intent: Two INS Sa'ar 5B Class corvettes: Ga'ash and Mivtach from 31st Missile Boat Squadron, Haifa Naval Base, will support 2nd Platoon, Haposhtim Co's assault upon a Hezbollah controlled port at the mouth of the Litani River on the shores of the Mediterranean Sea, with cannon, missile, and helicopter fires. 2nd platoon's Gold section composed of Teams Tal and Dani will seize objectives: Rhodes, Tal, and Dani. The Blue section led by 2nd Lt Gur, leading Teams Gehenna and Qatal will seize objectives: Shock, Qatal and Gehenna. The Atalef AS565 helicopters must draw Hezbollah anti-ship fire to fix and destroy their positions before the Gold and Blue sections assault the beach objectives Rhodes and Shock. Once an AS565 is fired upon, either the Ga'ash or the Mivtach will return fire to prompt a response from Hezbollah's SS-11 teams. We suspect there are at least one maybe two SS-11 teams using modified Milan I anti-tank missiles in an anti-ship role. It is imperative the SS-11s are eliminated before 2nd platoon assaults boats are released.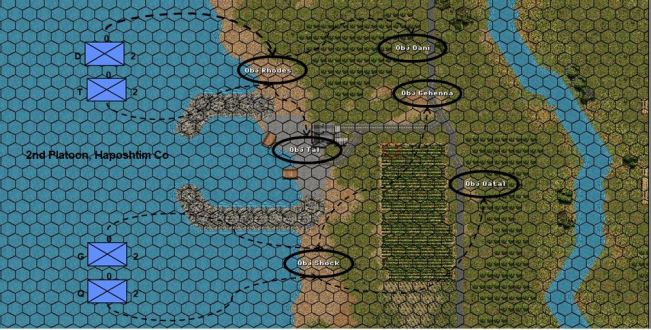 D. CONCEPT OF THE OPERATION
1. Maneuver: This is a beach assault. Expend sufficient munitions to destroy the SS-11 teams but do not use air or sea fires against the Iranian supply ships or the Syrian manned S-400s. Instead, use air and sea fires kill Hezbollah units and destroy their tunnels and ammo caches to support 2nd platoon's assault.
2. Fires: The corvettes, Ga'ash and Mivtach have smoke, cannon, and missile fires to support 2nd platoon. Not only are the Atalefs loaded with 30mm cannon and rocket fire, each helicopter can spot Spike NLOS missiles for the corvettes.
3. Close Air Support: The AS565s will provide missile targeting for the missile boats as 2nd platoon advances off the beach.
E. COMMAND/SIGNAL
Lt. Steve Fox, CO 2nd Platoon Haposhtim Co, Shayetet 13, 13th Flotilla is the mission CIC.
F. FRIENDLY FORCES
Israeli Amphibious Assault Team
2nd Platoon Haposhtim Co, Shayetet 13, Israel Naval Base, Atlit Israel
Gold Team
Leader: Lt. Steve Fox, CO
Team Tal
Sayeret Team
Shipon Team
Sapper Section
Cdo Sniper Team
Team Dani
Sayeret Team
Shipon Team
Sayeret Team
Cdo Sniper Team
Blue Team
Leader: 2nd Lt Gur, XO
Team Gehenna
Sayeret Team
Shipon Team
Sapper Section
Cdo Sniper Team
Team Qatal
Sayeret Team
Shipon Team
Sayeret Team
Cdo Sniper Team
2x Corvettes Missile Boats (Sa'ar 5B Class), 31st Missile Boat Squadron, Haifa Naval Base, Israel
INS Ga'ash
INS Mivtach
2x5 Rigid Raider Assault Boats
2x Atalef AS565 helicopter
Gameplay
Play this scenario from the Israeli side against the AI (Hezballah). Gameplay is 20 turns with visibility at 05. It is highly recommended to destroy Hezbollah SS-11 anti-ship missiles (modified Milan I anti-tank missile) before launching the assault boats. Use the Atalef AS565 helicopter to draw fire from targets on the beach in Turn 1, but direct the corvettes to return fire. The SS-11 teams should engage the corvettes, thereby allowing the assault force to fix their locations. If the SS-11 teams are not engaged in T01, they will fire upon the assault boats.
As a result of this scenario using NLOS missiles, the CD version of WinspMBT is recommended.
Victory Conditions
Destroy SS-400s, Iranian supply ships, and all Hezbollah forces in the AO while capturing all Victory Flags.
Notes
Comments appreciated.