A mod nation based on the Three Kingdoms era of Korea. Influence drawn from the kingdoms of Goguryeo, Silla and Baekje. 57BC - 668AD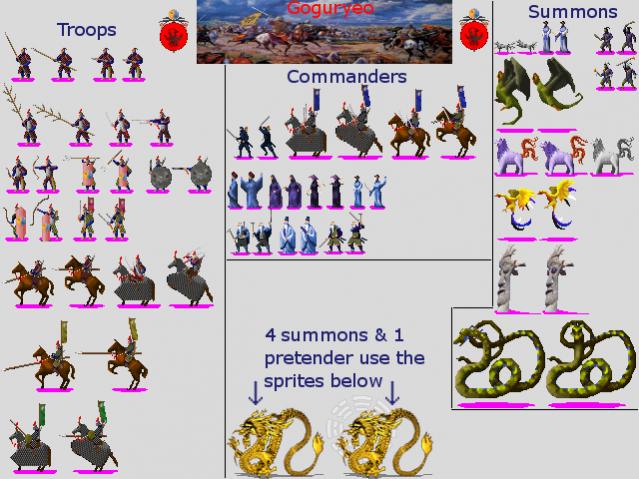 Race: Human.
Military: Very well-equipped Archers, Heavy Infantry and Cavalry.
Magic: Strong Fire and Water, good Astral, a little Air, Earth, Death and Nature.
Priests: Weak to Average, Cursed, Fortune-tellers, Healers. Other: High resource costs, fairly capitol-centric, small resource boost to all forts.
Goguryeo is a mystical and prosperous land in the far east, on an extremely mountainous peninsula. The land is ripe with iron and copper but little else, and the people have become industrious, already having forged these materials for thousands of years in the middle age. The Goguryeo have learned to value high defensive measures and they only build large, nigh-impregnable fortresses, learn to defend their castles from siege, and send out spies to determine the strengths of their neighbors. They fish the seas daily and have become experienced sailors. The Goguryeo are expert archers and use composite, recurve bows and crossbows. They favor spears, martial arts and twin-sword techniques. They field some of the heaviest cavalry of any age and most wear heavy armor. Their mudang, or shamans, are cursed with various maladies. The Goguryeo court is populated with talented blacksmiths and astrologers. They hate demons and undead above all else.
I think this nation is far more balanced than the
Qayan
were when released (and, possibly, even now).
Most of the troops have good prot (14+) but aren't incredibly strong otherwise. However, the high resource costs prohibit very fast expansion.
They have four different priestesses, each bringing a path the national mages can't easily access, but the priestesses suffer from the 'Shinbyeong', the spirit sickness. In game terms they each have insanity 10, berserk 1, NNE, 50% chance to have a starting affliction, and diminished physical stats (7 base ap, hp, str, att, def, 4 base enc) but all have some level of healer and fortune-telling, 13 base mr and 15 base mor.
No recruitable sacreds but they have a number of strong sacred summons. Many of the more costly summons bring strong access to a path they would otherwise only have very weak access to (Earth, Nature and, to a lesser extent, Air.) Four of the summons are sacred dragons: physically, much weaker than the vanilla dragons but with very strong magic paths.
Pretty well-tested for errors, not as much for balance. Hopefully, releasing it will garner some provocative feedback.
To do:
National heroes
Sprites for Yong summons
Give credit to the Gold Dragon sprite artist
One more summon
Balancing, hopefully using feedback
-- ID numbers used
--weapons 870-879
--armor 315-317
--monsters 3619-3691 (Uncondensed, I will tighten it up at a later time. Likely, after I make the heroes and the final summon.)
--nametype 121-122 Vanilla only
--sites 811-813
--nation 90
--spell slots 16